I simply must give brownie points, props, kudos, and a general shout-out to my favorite hat makers, Diane and Christopher Serviss of

pixiebell

at Etsy. This hat you see above is me in the second hat I've purchased from them, the first being the one you see below. I love them both and get compliments everywhere I go. Just today, at the grocery store, the lady at the checkout complimented me on my hat, as well as a customer in the produce section. This happens regularly, and even on numerous occasions, I've written out the address of the shop so that people can go and buy one themselves. I actually would love to pay for my own business cards with their shop address on it, just so that I can save myself the trouble, as often as it seems to happen.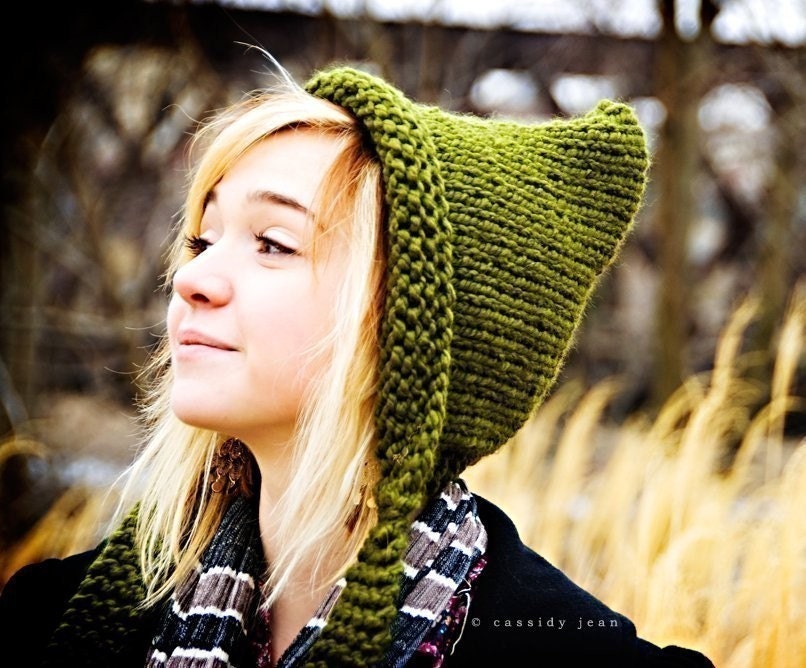 I truly recommend the pixie hat. It comes in many colors and it fits beautifully for any way you wish to wear your hair. I plan to get one in at least three more colors eventually, and let's face it, everyone wants to look like the girl in the photo.
One thing I want to say about these hats: it's not just that they're some kind of novelty, or the picture looks pretty and therefor I want it. The patterns are truly perfected in a way that I couldn't imagine being able to do myself. They do sell their patterns as well, but I must inform you that even their choice of yarn is perfect. It is strong and long lasting.
The greatest thing about Diane and Christopher, is that this is their day job. Both husband and wife knit, sell, and package their items every day, and they make a living off of it. With the quality of work that they do, they definitely deserve to be able to do this.
Please, support them if you can. See if you can find something of theirs that you like. They are truly great at what they do. You can enter their shop here.
Lotus Asylum